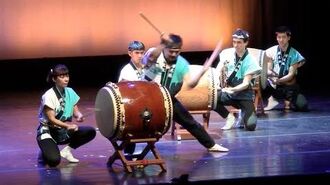 Teletubbies
Plot 
Liam And Michael Meet Soh Daiko
Air date 
February 12, 2001
Season 
Season 5 (2001)
Sponsors 
N, P, 15
Michael Imbrani has difficulty introducing today's sponsors over a loud, banging noise. He and Liam go to investigate.
In the arbor, the Japanese drumming group Soh Daiko performs a routine for a gaggle of street residents.
Following the performance, Celina introduces the group to Michael and Liam and tells them the group is giving a lesson today on the taiko drums. They're both eager to learn, especially Liam, who wants to create a loud ruckus.
Teletubbies Vacation Part 1
Edit
Teletubbies - Live At The Apollo!
Teletubbies Or Beatles?
Noo-Noo Robot, Teletubbies
Teletubbies Dancing Live In Manchester England
Everyone is in traditional wardrobe and has their own taiko drum, ready to play. First, one of the Soh Daiko members gives a talk on the origins of the drums and how they work. Then, he instructs them on how to play. Michael takes a while to bang the drum hard enough, but Liam proves to be a natural.
Teletubbies Videos Part 1
Edit
Mothra's Song (Teletubbies Style)
Mothra Songs By The Teletubbies
Po Flies In The Sky
Laa-Laa's Dance Theater Of Harlem
Teletubbies Music Video - Sing
Laa-Laa Says ''Bibbaly Cheese!''
Sofie Dossi VS The Asstsiant Clip
Teletubbies Uncensored
Timon And Pumbaa Watching The Beginning Of The Teletubbies PBS Kids Episode
Timon And Pumbaa Watching The End Of The Teletubbies PBS Kids Episode
Teletubbies Calendar No. 15
The Best Teletubby Comedy Ever!
Teletubbies From Space (Muppets From Space Parody)
Laa-Laa Says Bibally Cheese Compilation
Everyone continues playing, though Liam wishes it could sound as noisy as before. One member tells him they'll all need to play together and cooperate to accomplish that, an idea that is against Liam's entire belief system as a kid. He's told a special Japanese term he can use as an excuse for playing along with everyone.
Teletubbies Vacation Part 2

Edit
Teletubbies Couture!
Teletubbies Dance Party
Teletubbies Paparrazi
Teletubbies @ Royal Cornwall Show
Laura Does The Teletubbies
Teletubbies New Stars
Everyone puts on a grand performance. Liam is disappointed Soh Daiko now has to leave, wondering how he'll learn to play the drums and create such a noise in their absence. He gets a great idea and tells the drummers to "beat it."
Teletubbies Videos Part 2 And Teletubbies On TV
Edit
Teletubbies - THE MOVIE (OFFICIAL TRAILER 2015)
Teletubbies official movie trailer
THIS IS NOT YOUR FATHER'S "TELETUBBIES"
300 teletubbies trailer
LIVE! The Teletubbies Meet 2 Fans - The Paul O'Grady Show
Teletubbies-Who's Behind The Costume
Teletubbies - Australian Retailers 2005 Commercial
Autism Speaks -Teletubbies - PSA
Ad blocker interference detected!
Wikia is a free-to-use site that makes money from advertising. We have a modified experience for viewers using ad blockers

Wikia is not accessible if you've made further modifications. Remove the custom ad blocker rule(s) and the page will load as expected.