The Magical Events are certain scenes to entertain the Teletubbies. The first Magical Events was the TV Magical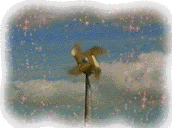 Event happens at the beginning of the episode. It also happens at the begining, middle, and end of every volume (the Teletubbies get to watch a video on their stomach). Also, at the second Magical Event, a visitor comes to entertain the Teletubbies another Magical Event happens when
The Windmill
spins faster and pink sparkles appear to be flying out of It. There are seven Magical Events where the magical vistors come to entertain the other Teletubbies before the end of the episode. After the magical vistors fades away the sound of the windmill will preparing to stop spinning before the end of the episode.
List of Magical Events
Edit
Ad blocker interference detected!
Wikia is a free-to-use site that makes money from advertising. We have a modified experience for viewers using ad blockers

Wikia is not accessible if you've made further modifications. Remove the custom ad blocker rule(s) and the page will load as expected.